On January 21, 2011, Magic Box International added a new Gogo's Crazy Bones Trading Card Game. This new trading game complements the range of Gogo collectable figurines and creates an exciting new way to play and collect Gogos. There are 160 cards to collect, including 32 special prismatic 'Leader' cards. Packets of the Gogo's Crazy Bones Trading Card Game contain 6 cards, including 1 special card and are priced at 50p. A Starter Pack is also available containing a Collector Album for storing the cards, a full game guide, checklist and 3 packets of cards. The Starter Pack is priced at £3.99.
South America
Edit
Panini and PPI Worldwide have released Trading Cards for 4 Series. (Urban Toys, Megatrip, Foot, and Turma Da Monica.) They were only released in South America. (Turma Da Monica was only released in Brazil.) They tell The Gogo's Status. You can get them in different ways. Sometimes, even with Gogo's!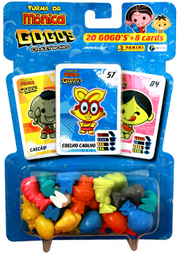 Ad blocker interference detected!
Wikia is a free-to-use site that makes money from advertising. We have a modified experience for viewers using ad blockers

Wikia is not accessible if you've made further modifications. Remove the custom ad blocker rule(s) and the page will load as expected.