Mr Enzo



Range

Gogo's Crazy Bones, Shin Chan

Series

Shin Chan

Number

13

Color

Any Color

Availability

Spain, Germany

Rarity

Extremely Rare

Next Gogo
13th in the Shin Chan collection.
Appearance
Mr. Enzo's head and shoulders. He has an angry expression.
Alternate Names
Trivia
The figure has shoulders but the sticker/artwork doesn't.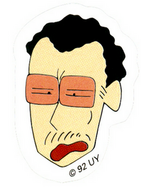 Ad blocker interference detected!
Wikia is a free-to-use site that makes money from advertising. We have a modified experience for viewers using ad blockers

Wikia is not accessible if you've made further modifications. Remove the custom ad blocker rule(s) and the page will load as expected.