"Life is short. Live in the moment."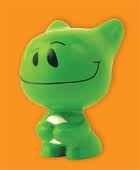 Mosh is the first character in the Gogo's (2008) set. Mosh's colors are light green, dark green, light blue, dark blue, and purple. In South America and Asia, Mosh is known as Bugui. Mosh is also in the Superstar series. Mosh also appears in the Gogo's Fusion series as a big character in light green.
Laser Mosh
Edit
In April 2009, the Entertainer toy shop in Kingston upon Thames held a 'swap day'. Every swapper received a special 'Laser Mosh".
Appearance
Edit
Mosh has a white circle on his stomach, and has two small spherical horns coming out of his head. He is smiling hard. Mosh is a little bit taller in the superstar series, probably because of the felt.
Description
Edit
Ability: Magic Smile
Super kind. All the Gogos want to be friends with Mosh

Added by

XxLogo
Light Green
Dark Green
Light Blue
Dark Blue
Purple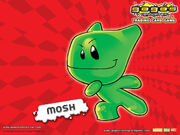 Red (UT ONLY)
Grey (UT ONLY)
Pink (UT ONLY)
Dark Pink (UT ONLY)
Light Green (Superstar)
Orangish Yellow (UT and Superstar)