Megatrip



Range

Gogo's Crazy Bones

Years

2009-2014

Availability

South America, Asia, Europe (anywhere in Europe that doesn't get the US/UK sets)

Subsets

Megatrip (Special Edition), Danone, Genios, Edge, Sutas Tatilmmm

Rarity

Infrequent (C1000 and Edge), Uncommon (South America and Asia), Scarce (Danone and Sutas Tatilmmm)

Next Series

Foot
Megatrip was a series that was released in August 2009 in many countries outside of the US and UK, and are sold at many newstands throughout Brazil. There are 80 characters to collect, each package comes with two Gogo's, four stickers for the album, and a checklist of some of Gogo's to check off who you have. Comes with a sticker album with 80 colorful stickers. There are 5 types of Gogo's avalible: Normal, Multicolored, Glow (Glow in the Dark), Metallic, Metal, and Glitter. Each Album came with a Mega Gogo.
Checklist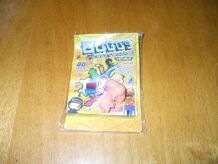 Types of Gogo's
Common (Like the Crazy Bones before 2008, these figures are not painted, and all detail is sculpted. All characters are non painted, except for Multicolor).
Multicolor (Gogo's that are painted like all other Gogo's after 2008. Unlike other sets, Multicolor have more detail, and are harder to find.)
Metallic (Gogo's that are metal, similar to the Gold Gogo's or Power Gogo's. These are only available in Colombia and Asia.)
Glitter (Clear with Glitter inside. In Colombia and Europe, these are available in different colors, such as pink. In The Philippines, these are painted.)
Glow (Gogo's that Glow in the Dark. These are available in a Ghost Green and Peach.)
Mega (Came with the Megatrip Album. Gogo's that are larger than regular size. These were also available at Carrefour.)
Edge
In early 2012, Megatrip was released in the UK under the name, Gogo's Crazy Bones Edge. Unlike Megatrip, only 60 characters are available and some characters have been altered. The characters are all painted (with the exception of Attuk). The weird thing is, Magic Box Int. uses numbers from the original checklist, and uses them for the Edge Series' Stamps. The problem is that this confuses fans, because there is no #41-60. (They are numbered correctly on the checklist for the Edge Series.)
Gallery