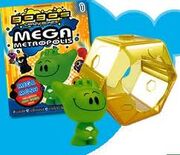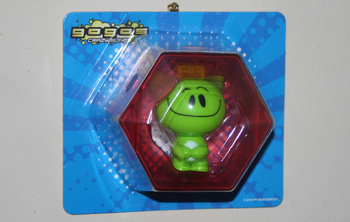 Mega Metropolis
is a Gogo's Crazy Bones magazine that is available in the UK, Ireland, South Africa, and Australia. Throughout it's lifespan, 80 issues were released every week from January 2010 to July 2011.
Each issue comes with a Mega Gogo based on a Series 1 Gogo, and a Pod. Inside the Mega Gogo is a Mini Gogo, which is based on Evolution Gogo's. For every Mega Gogo, they have interchangeable heads to mix up with others. Because some characters had different sculptures regarding the head placement, some Mega Gogo's were changed, such as Evi's arms being down whereas his arms were up in the first place.
The Magazine
Edit
About the Gogo
Edit
In every issue, there is info about the main Mega Gogo, the Series 1 Gogo and it's Evolution counterpart. There is also a Gag Comic about the Gogo, as well as suggestions on creating a new character by swapping two Mega Gogo's heads/bodies to give readers inspiration.
There is a comic about the Gogo and their personality, usually drawn by three different artists. The first five comics were drawn by Jack Lawrence, and one comic was drawn by an unidentified artist for Jelly's issue.
Finders Keepers
Edit
A 'Where's Wally/Waldo' like part in the Magazine, drawn by Jack Lawrence.
There's a random game in each issue, usually a board game or a set of rules.
This is about facts on a subject by a Gogo usually related to the topic (though it's not by the main Gogo, like in Fist's issue Skull did some trivia on ghosts).
Activities
Edit
This includes random activities in the comic, including Spot the difference and Dot to dot.
See Fusion for more
Fusion is an alternate series of Mega Metropolis. It has only been released in the Philippines. The Fusion Series only has 40 of the 160 Mega and Mini Gogo's and it doesn't have the Pods. They also have Buddies (Mega) and Kiddies (Mini) packs.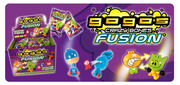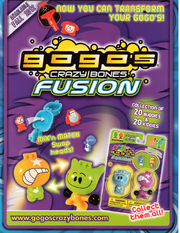 The Comics were drawn with five different artists. The first five issues were drawn by Jack Lawrence, the three other artists who did issues 6-80 (not including issue 10) were done by Anthony Williams, Kev Hopgood and Nigel Dobbyn. Issue 10 was drawn by Ellen Lindner, making her the only artist to do one issue.
The magazine's last issue was made in July 2011.
This is the only series when it was possible to obtain all the Series 1 characters in mega form.
Some of the characters have different poses (like when Sago had his arms on his hips for example).
There is some merchandise when you order various times:
Even when the magazine was mainly focus on the Series 1 and Evolution Gogo's, some Explorer gogo's can be seen in earlier issues.
When first released, there was a free flyer that came with Issue 1, along with a poster drawn by Jack Lawrence.
Moshi Monsters Micro Moshi Mega Heads are a very similar product that most likely took inspiration from Mega Metropolis.
Ad blocker interference detected!
Wikia is a free-to-use site that makes money from advertising. We have a modified experience for viewers using ad blockers

Wikia is not accessible if you've made further modifications. Remove the custom ad blocker rule(s) and the page will load as expected.