Lian Chu



Range

Dracco Heads, The Dragon Hunters

Series

The Dragon Hunters Dracco Heads

Number

8

Availability

Germany

Rarity

Unusual

Next Dracco Head
8th in the
Dragon Hunters collection.
Trivia
His sticker is his whole body, but the figure is only his head.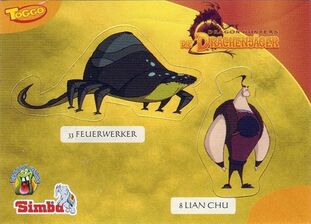 Ad blocker interference detected!
Wikia is a free-to-use site that makes money from advertising. We have a modified experience for viewers using ad blockers

Wikia is not accessible if you've made further modifications. Remove the custom ad blocker rule(s) and the page will load as expected.