King Yemma



Range

Gogo's Crazy Bones

Series

Dragonball Z

Number

10

Colors

Any Color

Next Gogo
10th character in the Dragonball Z series.
Appearance
A mean looking man with a beard, wearing a viking helmet that has two horns coming out of the sides of it. He also has a Japanese symbol on his helmet.
Description
He is the boss of all the ogres who judge the dead. His job is to choose whether a soul goes to Heaven or Hell.
Alternate Names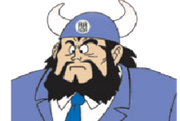 Ad blocker interference detected!
Wikia is a free-to-use site that makes money from advertising. We have a modified experience for viewers using ad blockers

Wikia is not accessible if you've made further modifications. Remove the custom ad blocker rule(s) and the page will load as expected.