Jarum



Range

Gogo's Crazy Bones

Series

Foot (C1000)

Number

90

Colors

Orange, Gold

Rarity

Uncommon

Next Gogo

Unknown Foot Gogo 1

Alternate Names

None
Jarum is #90 in the C1000 version of the Foot series. He replaces
Jarun
from the original version of Foot.

Description
Edit
The strongest of all the mascots. Brings everything a team needs, power, speed and luck. Shouts the players to win.
Jarum uses the same sculpt as Lyu.
For C1000 promotions, Jarum was sometimes shown with a different, more detailed face (see below). It is unknown if this was a prototype.
There is also a Gold Jarum only sold exclusively at C1000 Supermarkets.
Jarum was a C1000 Exclusive, also having the same colors as the Holland Football Team. Other countries got Jarun.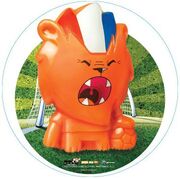 Ad blocker interference detected!
Wikia is a free-to-use site that makes money from advertising. We have a modified experience for viewers using ad blockers

Wikia is not accessible if you've made further modifications. Remove the custom ad blocker rule(s) and the page will load as expected.