Scott Jackson (J-Box)



Series

None

Number

No Gogo Number

Rarity

Extremely Rare

Related Gogos
Q Mack and J Box are two people who helped out in the Trick Shot Contest. Q Mack is very well known for his basketball trick shots, and his partner J Box is well known for his beatboxing. The two visited schools across America and gave out special limited edition Q Mack and J Box Gogo's (pictured). These two Gogo's are super rare, and are the only celebrity Gogo's that are avalible to the public. They can also be won in contests (the Gogo's that is).
Description
Edit
Keep chasing your dreams!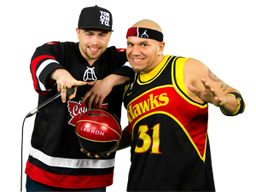 Ad blocker interference detected!
Wikia is a free-to-use site that makes money from advertising. We have a modified experience for viewers using ad blockers

Wikia is not accessible if you've made further modifications. Remove the custom ad blocker rule(s) and the page will load as expected.