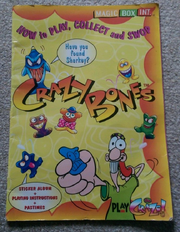 The handbook is where you can find information about Crazy Bones. There are many different handbooks.
List of Handbooks
Edit
Official Handbook(Gogo's-Buddies)
Power Handbook
Pedigree Annual, collector's edition (covers most currently available series)
Official Handbook (all4Fun Toy Products LTD. Canada 1999)
Official Handbook (Original Gogo's Only by Toy Craze)
Official Handbook (Original Gogo's 1995 Printed in Spain by Magic Box Int)
Ad blocker interference detected!
Wikia is a free-to-use site that makes money from advertising. We have a modified experience for viewers using ad blockers

Wikia is not accessible if you've made further modifications. Remove the custom ad blocker rule(s) and the page will load as expected.