Grumpy (Mutants)



Range

Gogo's Crazy Bones, Mutants

Series

Mutants

Number

A71

Colors

Any Color

Rarity

Common

Next Gogo
A71 in the Mutants series.
Description
Nobody ever wants to play with this grouch!
Appearance
He looks like a tribal warrior or a 'Rambo' style character with a bandanna and face markings.
Trivia
Alternate Names
Reclamatoy (Brazil)
Gogainer (Germany)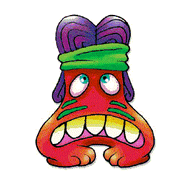 Ad blocker interference detected!
Wikia is a free-to-use site that makes money from advertising. We have a modified experience for viewers using ad blockers

Wikia is not accessible if you've made further modifications. Remove the custom ad blocker rule(s) and the page will load as expected.