Foot



Range

Gogo's Crazy Bones

Year

2010, 2012, 2013, 2014

Availability

South America, Israel, Holland, Costa Rica

Rarity

Uncommon

Subsets

Genios, Gogo's Futebol

Next Series

Monica's Gang (Brazil), Genios (Argentina)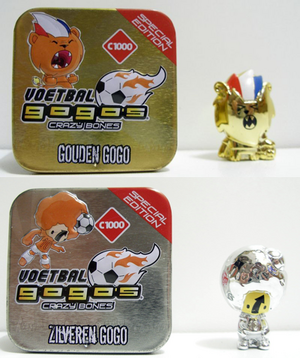 Foot (AKA Fut, and/or Voetbal) is a Football series.
For The Orignal Series
, There were 9 Teams, with 10 Gogo's on each team, so there are 90 different characters. This series is in honor of the 2010 FIFA World Cup. It began to be sold on newsstands from March 18, 2010. With new games and characters Panini has also shown that ability with the ball at the foot of Gogo's! An extraordinary collection! With the news of 4 new types: Relief (Unpainted), Multicolored, Metallic (36 Gogo's in the colors Gold, Silver and Bronze) and Gogo's Energy, which change color when the temperature rises! Put in your hand and leave for a few seconds and see the transformation!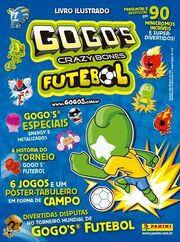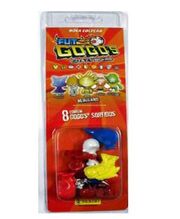 Teams
There are 12 Teams, in all. This Inlcudes Repaints, etc.
Spain
Germany
Argentina
England
South Africa
Brazil
Italy
France
Latinus
Netherlands (Latinus Repaint)
Costa Rica (Replaced Team Latinus, in 2014, in Ecuador and Costa Rica. They still have the same names, though.)
Ecuador (Costa Rica Repaint)
Games
Barrier
Get a Barrier, 4 Gogo's and a Goal, with a Goalkeeper.
 A Ball is Thrown to the Gogo's.
Get a Gogo's Goal without touching the wall.
Gogo's Futebol
Gogo's Futebol is the rerelease of Foot Gogo's for Fifa World Cup 2014 in Brazil. It is just like The Foot Series, but The Album and all new products have a new design. They also released 5 Types: Relief (Unpainted), Multicolored, Metallic (36 Gogo's in the colors Gold, Silver and Bronze.), Energy, Glitter (New for Gogo's Futebol) and Glow in The Dark (New for Gogo's Futebol). 
Tosty and Mi Comisariato
In 2014, Fut Gogo's were promoted in Costa Rica by Tosty, and in Ecuador by Mi Comisariato.  
Tosty
There were 8 of The Orignal Teams, but instead of having Team Latino, they replaced it with Team Costa Rica, and changed the Designs of The Characters. Although, they had the same names of the Old Characters. 
Mi Comisariato
Mi Comisariato in Ecuador has The Orignal 90 Characters, but they also have some New Teams, Such as Team Costa Rica. Although, Team Costa Rica, was repainted and renamed, Team Ecuador. (This Happened in 2010, with Team Latinus.) However, you can still find Team Latinus Characters in Mi Comisariato Packs, even though they aren't on the checklist.
C1000 Voetbal Gogo's
During the 2010 FIFA World CUp the Dutch supermarket C1000 launched there 2nd Gogo's series. In the Dutch version of the Foot Gogo's there are also 9 teams of 10 Gogo's. 90 different characters and each of them is available in a painted and a unpainted version. The Dutch team also has two specials, one gold and one silver Gogo. That makes a total of 182 Gogo's to collect.
For each 15 euro you spent, you received a pack containing a Gogo and a sticker of the character. For the stickers there was a special album. You also could collect a playground and a small bag to put some Gogo's in you could play with.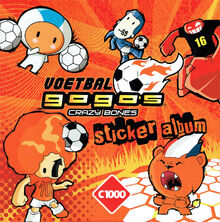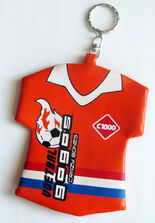 The 9 teams have different base colours
Spain and Germany: Red 

Argentina and England: white 
South Africa and Brazil: Yellow 
Italy and France: blue 
The Netherlands: orange   
Alternate Names
Fut
Foot
Voetbal
Gogo's Futebol
Trivia
This Series has been rereleased 2 Times (Genios, Gogo's Futebol) and is probably one of the most rereleased Series around.
C1000 and Mi Comisariato got Repaints of Teams, for their Country. (C1000 got Team Netherlands, and Mi Comisariato got Team Ecuador.)
One Foot Gogo, Zaya was found in a Gogo's Crazy Bones Series 1 Pack from The USA, by JRG508. This shows one example of how many Gogo's Series are manufactured at once, so some Series can get mixed up.