Foot



Range

Gogo's Crazy Bones

Year

2010, 2012, 2013, 2014

Availability

South America, Israel, Holland, Costa Rica

Rarity

Uncommon

Subsets

Genios, Gogo's Futebol, Mega Gogo's Crazy Bones, Voetbal

Next Series

Monica's Gang (Brazil), Genios (Argentina), Cool/Groovy (Israel and Netherlands)
Foot (AKA Fut, and/or Voetbal) is a series is in honor of the 2010 FIFA World Cup. In the standard release, 90 characters were released. For every ten figures, there was a team, each representing a different country. It began to be sold on newsstands from March 18, 2010.
Teams
There are 12 Teams, in all.
Standard release
Spain
Germany
Argentina
England
South Africa
Brazil
Italy
France
Latinus
C1000
Netherlands (Latinus Repaint)
2014 Releases
Costa Rica (Redesign of Team Latinus)
Ecuador (Costa Rica Repaint)
Colors
Each team had a different livery. Alternate colors for some teams exist, as they were repurposed in certain countries. For example, Team Latinus was repurposed to Team Netherlands in the Dutch release of the series.
Spain and Germany - Red
Argentina and England - White
South Africa and Brazil - Green, Yellow (C1000)
Italy and France - Blue
Latinus - Cherry Red
Netherlands - Orange
Costa Rica - Nougat, Blue and Red accent
Ecuador - Yellow, Blue and Red
Games
Barrier
Get a Barrier, 4 Gogo's and a Goal, with a Goalkeeper.
 A Ball is Thrown to the Gogo's.
Get a Gogo's Goal without touching the wall.
Releases
Standard Release
The standard release refers to the Panini and PMI releases. That is, the series with the original 90 characters and their respective teams. Other notable variants are either re-releases, or alternate versions of this release.
C1000 Voetbal Gogo's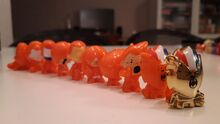 During the 2010 FIFA World Cup, the Dutch supermarket, C1000, launched their 2nd Gogo's series. Out of the 90 characters, 89 were carried over to this series. The 90th character from the standard release, Jarun, was replaced with Jarum. Each character had an unpainted and painted variant. Unlike Megatrip (Special Edition), there was only color for per figure, making this series quite limited in variety. Only three metallic figures made for this series; a gold Jarum, silver Burigo, and a bronze Pin-Gol. The Jarum and Burigo were given away in a small tin, while the Pin-Gol figure was given away with just a sticker. Because of its limited promotion, the Pin-Gol figure is the rarest of the set.
Genios
Released in promotion with the Genios magazine, this series saw the original 90 characters, along with series Urban Toys, and Megatrip, combined into one.
Gogo's Futebol
Gogo's Futebol was the rerelease of Foot for 2014 Fifa World Cup in Brazil. The packaging and album were changed drastically. Glitter and Glow in The Dark variants were new for Gogo's Futebol.
2014 Releases
In 2014, Fut Gogo's were promoted in Costa Rica by Tosty, and in Ecuador by Mi Comisariato.  
Tosty
This series saw the redesign of Team Latinus. Instead of a color swap, as seen in the C1000 series, the character design was changed entirely. The team was renamed to Team Costa Rica, to represent the country in which these figures were released.
Mi Comisariato
The new designs for the Latinus characters were carried over to this series, but repainted in an Ecuadorian livery. However, you can still find old Team Latinus designs in Mi Comisariato Packs, even though they aren't on the checklist.
Trivia
This Series has been rereleased 2 Times (Genios, Gogo's Futebol.)
Gallery