Bubbles



Range

Gogo's Crazy Bones

Series

Dragonball Z

Number

21

Colors

Any Color

Next Gogo
21st character in the Dragonball Z series.
Appearance
A monkey that has his arms in front of him.
Description
Bubbles is King Kai's pet, he uses him in his training lessons and instructs his students to chase after him.
Trivia
His artwork has a tail but his figure does not.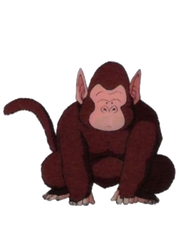 Ad blocker interference detected!
Wikia is a free-to-use site that makes money from advertising. We have a modified experience for viewers using ad blockers

Wikia is not accessible if you've made further modifications. Remove the custom ad blocker rule(s) and the page will load as expected.