Crazy Bones Aliens



Range

Gogo's Crazy Bones

Year

1999

Availability

Worldwide

Rarity

Alternate Names

Série Gelo-Cosmicos, Hielocos Aliens, Monstruos
60 Alien Characters to find and collect. There is a set of different martians based on historical figures, each one has glow in the dark eyes! There is also some ugly space monsters with hand painted features. Each pack contains 3 figures. 
Checklist
 Trivia
When these were released in Europe not all of them were given painted faces.
In Mexico Aliens were released as 'Hielocos Aliens' and 'Monstruos'. They were exactly the same as the American versions, but with Coca-Cola stamped on the back.

In Brazil they were released as 'Série Gelo-Cósmicos'.

The aliens eyes glow in the dark.

When these were first released there was a rare chance of finding an Alien figure in a pack of Things
They were only available in shiny gold in Australia in association with the Sunblest cereal offers.
Alternate Names
Crazy Bones Aliens (Canada, USA & UK)
Gogo's Crazy Bones Aliens (Europe)
Série Gelo-Cósmicos (Brazil)
Coca-Cola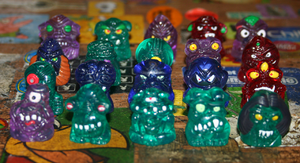 A Coca-Cola Hielocos series from Mexico, called Monsters, part of the larger Aliens collection; these were promotionals from the late '90's. They were redeemed for Coca-Cola bottle tops. Shown here are 20 figures from the series. Notice that the stamp on the back says Coca-Cola instead of Magic Box Int.
Gallery