thumb|300px|right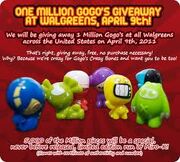 The 1,000,000 Gogo's Crazy Bones Giveaway is an event that is throughout the United States that gives free samples to average Gogo collectors and Walgreens shoppers to enjoy. This offer is only in the United States at Walgreens.
Although there are global Gogo's crazy Bone collectors,the offer is only throuhgout the USA.
5,000 of the Gogo's will be a super rare Gogo called Miro-K.

It was commercialized at the end of the 2011 commercial and revealed it to public for Gogo enthusists throughout the US.
Ad blocker interference detected!
Wikia is a free-to-use site that makes money from advertising. We have a modified experience for viewers using ad blockers

Wikia is not accessible if you've made further modifications. Remove the custom ad blocker rule(s) and the page will load as expected.